Take part in the contest organized by the Ker Eden campsite and win a 7-day stay in the campsite!
Free contest from the 7th of February until the 30th of April 2022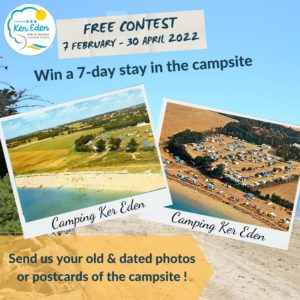 Let's start : send us your oldest & dated photos or postcards of the campsite!

We will select the oldest and most representative dated photo or postcard of the Ker Eden campsite which will allow you to win a 7-day stay at the campsite (on a camping pitch)!
You can send one or several dated photos and postcards. The date must be able to be justified (stay, text, postmark).
Additional testimony will be appreciated.
Send your photos and postcards :
TRY TO WIN :
One 7-day stay (pitch) at the Ker Eden campsite in Larmor-Baden over the period chosen by the winner (opening period of the campsite: season 2022 or 2023): the winner will stay on a pitch with electricity for a tent, caravan or motorhome, for 2 or 3 people and a vehicle. Pet not included.
Participation in this game implies full acceptance of these rules by the participants.
Read the rules.