Unit rental in Ker Eden Campsite on water's edge: Cottage Goélette for 4/6 persons
New mobile-home! Very comfortable holidays in an ultra-equipped cottage for 4/6 people
COTTAGE GOÉLETTE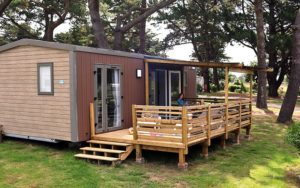 A large cottage of 30m² brand new, with a kitchen opening to the terrace and 2 bedrooms
Covered terrace, 2 bedrooms, a large living room, kitchen equipped with dishwasher, bathroom, WC, TV, barbecue.

From 420€ /week. Short stay of 2  nights minimum in low season.
Special offer from 13 May to 1 July and from 1 to 25 September : 7 nights = 6 nights!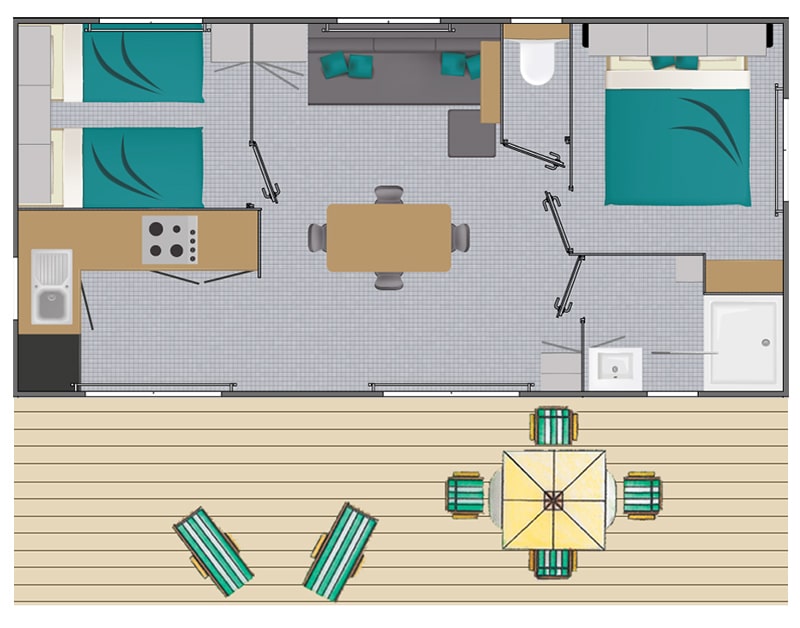 2 bedrooms : 1 bedroom with 1 double bed 160x200cm et 2 bedrooms with 2single beds 80x190cm
Living room with convertible sofa (sleeps 2 persons) and TV
Ultra-equipped kitchen with dishwasher, fridge/freezer, 4 gas rings, micro-wave
Bathroom with shower (100x80cm)
Separated WC
Electric heating in every room
TV, safe, mosquito net
Garden furniture, Barbecue
Many functional storage units in the living room and bedrooms
BOOK ONLINE, see all availabilities and prices :
Prices of rental units
Special offer from 13 May to 1 July and from 1 to 25 September : 7 nights = 6 nights!
2 nights inimum in low season. 7 nights minimum in high season from 2 July to 31 August (arrival on Wednesday or Saturday)
Mobile-home 2022 prices
/ night
Special offer 7 nights = 6
2 nights minimum
7 nights minimum.
Arrival on Wednesday or on Saturday
13 to 24 May
30 May to 2 June
7 to 24 June
10 to 25 Sept
25 June to 1 July
1 to 25 September
2 to 8 July
9 to 15 July
27 to 31 August
16 to 29 July
20 to 26 August
30 July to 19 August
First night
Following night
First night
Following night
Night
Night
Night
Night
FORBAN 25m² 4/6P
2 bdr, partially covered terrace, TV
88€
44€
116€
58€
72€
90€
105€
112€
SINAGO 28m² 4/6P
2 bdr, terrace, TV and BBQ
100€
50€
126€
63€
79€
96€
113€
121€
YOLE 24.7m² 4P
2 bdr, terrace with pergola, TV and BBQ
116€
58€
148€
74€
86€
104€
122€
130€
VACANCES RMP 34m² 4/6P
2 bdr, terrace with pergola, TV and BBQ
116€
58€
148€
74€
86€
104€
122€
130€
GOÉLETTE 30m² 4/6P
2 bdr, terrace with pergola, TV and BBQ
120€
60€
158€
79€
91€
110€
130€
135€
CARAVELLE 32m² 6P
3 bdr, covered terrace, TV and BBQ
124€
62€
160€
80€
94€
112€
133€
137€
Mobile-homes Long week-end prices 2022
Ascension
25 to 29 May : 1 to 4 nights

Pentecôte
3 to 6 June : 1 to 3 nights

Forban 4/6P
288€
174€
Sinago 4/6P
316€
189€
Yole 4P
344€
222€
Vacances RPM 4/6P
344€
237€
Goélette 4/6P
364€
237€
Caravelle 6P
376€
240€