Mobil-home rental at Ker Eden campsite for 4 persons : Cottage Yole
New! Comfortable and stylish : your family holidays in a very comfortable cottage for 4
COTTAGE YOLE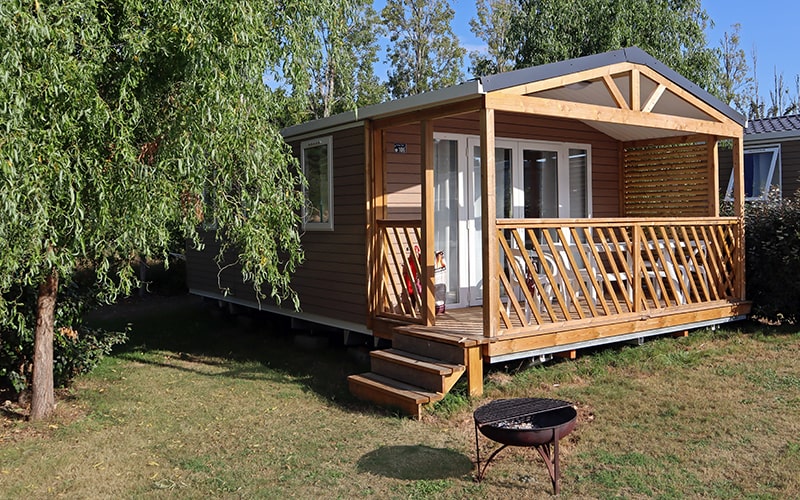 A pleasant 24.70m² cottage with a spacious living room which opens onto the covered terrace
Covered wooden terrace 7.30m²
2 bedrooms, lounge/living-room with a sofa, equipped kitchen, bathroom, WC, TV, Barbecue.
From 427€ /week. Short stay of 2 nights minimum in low sesaon.
Special offer from from 12 May to 30 June and from 2 to 24 September : 7 nights = 6  !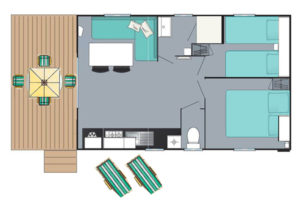 2 bedrooms : 1 double bedroom with a double bed 140x190cm and 1 bedroom with 2 single beds 80x190cm
Lounge with sofa and television
Equipped kitchen : fridge/freezer, 4 ring gas, microwave
Bathroom with shower and WC
Garden furniture
TV
Barbecue
BOOK ONLINE, check availability and rates :
2 nights minimum in low season. 7 nights minimum en high season from 2 July to 31 August (arrival day on Wednesday or Saturday)
Indoor photos © IRM
Prices of rental units
Special offer for one week from from 12 May to 30 June and from 2 to 24 September : 7 nights = 6 !

2 nights minimum in low sesaon. 7 nights minimum in high season from the 1rst of July to the 1rst of September (arrival day on Wednesday or Saturday)
Tarifs 2023
par nuit des mobil-homes.
Promotion 7 nuits = 6
2 nuits minimum
7 nuits minimum.
Arrivée le mercredi ou le samedi
12/5 au 16/5
22/5 au 25/5
30/5 au 30/6
2/9 au 24/9
24/6 au 30/6
2/9 au 8/9
1/7 au 7/7
8/7 au 14/7
26/8 au 1/9
15/7 au 28/7
19/8 au 25/8
29/7 au 18/8
1ère nuit
Nuit suivante
1ère nuit
Nuit suivante
Nuit
Nuit
Nuit
Nuit
FORBAN 25m² 4/6P
2ch, terrasse en partie couverte, TV
92€
46€
122€
61€
76€
95€
111€
120€
SINAGO 28m² 4/6P
2ch, terrasse, TV et barbecue
106€
53€
132€
66€
83€
102€
120€
129€
YOLE 24,7m² 4P
2ch, terrasse avec tonnelle, TV et barbecue
122€
61€
156€
78€
90€
110€
129€
139€
VACANCES PMR 34m² 4/6P 2ch, terrasse couverte, TV et barbecue
122€
61€
156€
78€
90€
110€
129€
144€
GOÉLETTE 30m² 6P 2 ch, terrasse couverte, TV et barbecue
126€
63€
166€
83€
96€
117€
138€
144€
CARAVELLE 32m² 6P
3 ch, terrasse couverte, TV et barbecue
130€
65€
168€
84€
99€
119€
141€
147€
Tarifs grands week-ends 2023
Mobil-homes
Ascension
17/5 au 21/5 : 1 à 4 nuits

Pentecôte
26/5 au 29/5 : 1 à 3 nuits

Forban 4/6P
332€
183€
Sinago 4/6P
364€
198€
Yole 4P
396€
234€
Vacances PMR 4/6P
396€
234€
Goélette 4/6P
420€
249€
Caravelle 6P
432€
252€